Natura Chronos specific care products are designed to treat particular skin problems, regardless of age or skin type: loss of firmness, dark spots, eye contour?
With a high concentration of active ingredients, they deliver instant results and their sustained use helps prevent the appearance of new signs of ageing. Discover them now!
New!

Chronos Super Serum Wrinkle Reducer
Reduction of wrinkles and expression lines in only 2 weeks!
Ideal for the face, eye area and neck.
Triple action:
Stimulates the production of collagen and elastin.
Connects: Promotes the connection between the skin's support fibres
Reorganises: restructures the skin's support fibres to make them more efficient.
Result: Visible reduction of all types of wrinkles in all parts of the face!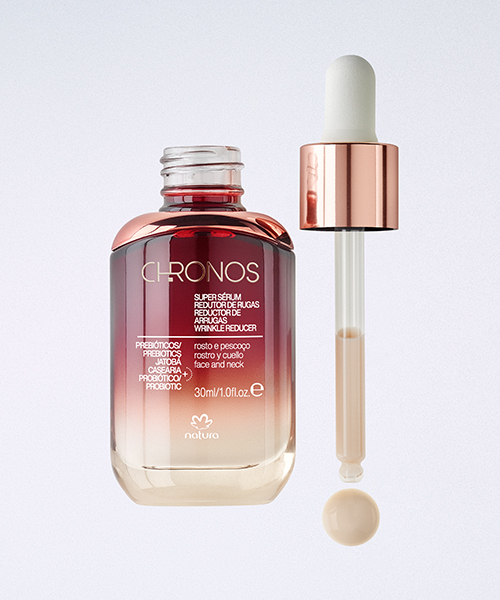 Revitalising facial oil
Based on Sapucainha, a Brazilian tree with fruits rich in essential fatty acids and with a soothing effect, which reduce skin damage caused by external aggressions and protect against premature ageing.
This light-textured facial oil restores vitality and radiance to your skin, which is subjected daily to external aggressions such as the effects of weather and pollution. An exclusive combination of natural oils such as grape seed, lavender and almond oil as well as Brazilian Sapucainha that provides powerful antioxidant protection. Its formula penetrates quickly to reduce wrinkles and improve the quality of your skin, which is visibly smoother, repaired and regenerated.
Repairs damage to the skin caused by pollution, weather and stress
Stimulates the skin's natural defence mechanisms
Prevents premature ageing: wrinkles, sagging and dull areas
EYE CONTOUR SMOOTHING SERUM
Maximum anti-ageing effectiveness in a single drop
With Jambu extract and hyaluronic acid
- Reduces the depth of wrinkles and firms eyelids
- Immediately masks expression lines
- Brightens the eye area
- Fluid texture which is easily absorbed by the skin
INTENSIVE SERUM
Restores skin's radiance and reduces dark spots
With pure vitamin C.
The Chronis Elastino C+ complex works to effectively reduce pigmentation marks.
- Corrects skin tone
- Stimulates collagen production
- Prevents the formation of new brown spots
PRO-FIRMING INTENSIVE SERUM
Firmness booster - 8 times more collagen
With Jatoba extract and saccharides
- Restores firmness and reshapes the face from two weeks onwards
- Provides an immediate lifting effect
- Restores skin elasticity.