MURUMURU, A HIDDEN TREASURE FROM THE AMAZON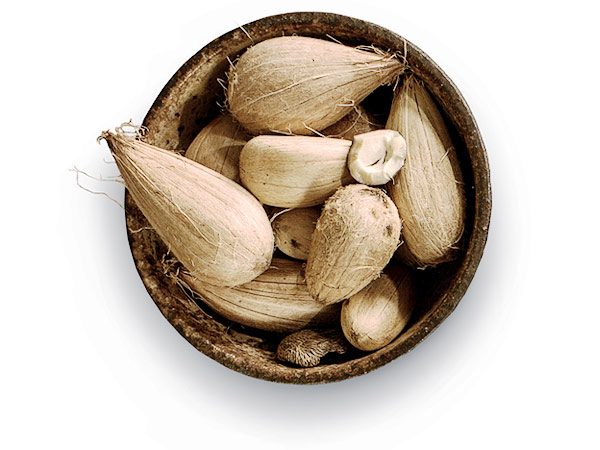 Don't judge a book by its cover, you'll miss out on a real treasure in nourishing Murumuru.
For years, the Murumuru palm tree was felled in large numbers, because very few Amazonians had really noticed its incredible properties, its wood was used to make buttons, jewellery, baskets and even to build houses.
But a little over fifteen years ago, things started to change, in particular with the work of Natura researchers, who, while scouring the Amazon in search of new and rare ingredients, discovered this very special tree, and discovered its incredible possibilities for hair care. The Murumuru palm may look thorny and threatening, but it knows how to be gentle, the butter extracted from its fruit is very rich and restorative .
HARVESTING MURUMURU
Since 2005, Natura has established strong partnerships with 7 Amazonian communitiesthat grow Murumuru. Natura helped them to learn how to get the most out of this tree, not by cutting it down, but by preserving it and harvesting its rich fruit.

Murumuru butter is included in several Natura products, but it is in hair care products in particular that its effectiveness is the most remarkable. A whole range of hair care products was specially developed based on Murumuru in 2016.

Today, more than 1,100 small farmers harvest Murumuru for Natura and have seen their living conditions improve thanks to this tree.
IN THE HEART OF THE AMAZON WITH EKOS MURUMURU
INTENSE BENEFITS FOR HAIR
Rich in essential fatty acids, Murumuru butter is also very rich in lauric acid which gives it a dry feel and allows it to work perfectly on the proteins in hair without weighing it down.
It is the perfect ally for dry and damaged hair.

Thanks to the different routines offered by Natura, the Murumuru hair care range is suitable for all hair types: dry, damaged or very fragile hair, as well as curly or coily hair.

The simplest routine (shampoo and conditioner) is perfect for people who need to provide dry hair with daily nourishment. For even drier and more damaged hair, the routine completed with the pre-shampoo and care mask, which the further addition of the repairing butter. Finally the styling balm is the perfect way to prolong the repairing effect of Murumuru throughout the day as well as giving more hold and making your hair beautifully soft.
OUR DIRECTIONS FOR USE IN PICTURES
WITH ANNE-FLORE MARXER