THE MURUMURU, A HIDDEN TREASURE OF AMAZONIA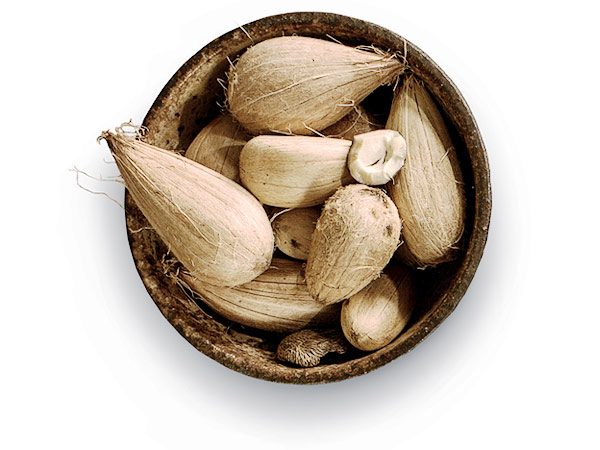 Do not rely on the appearance of Murumuru, you would miss a veritable treasure of nutrition.
For many years the Murumuru palm tree was cut down in large numbers, as very few people in the Amazon had really noticed its incredible virtues and used instead its wood to make buttons, jewelry, baskets and even to build houses.
But for a little more than fifteen years, things have begun to change, notably with the work of researchers from Natura, who have been exploring unique tree forests in search of new and rare ingredients, unveiling its incredible virtues to take care of the hair fiber. Indeed, if the appearance of the Murumuru palm tree is thorny and menacing, it also knows how to become soft, when you learn how to extract a very rich and repairing butter from its fruits.
THE MURUMURU HARVEST
Since 2005, Natura has forged a solid partnership with seven Amazonian communities that cultivate Murumuru. Natura has allowed them to learn how to make the most of this tree, not by cutting it down, but by preserving it and harvesting its rich fruits.
The Murumuru butter is a component for several Natura products, but it is particularly in the hair care line that its effectiveness is the most remarkable. A whole range of hair care has been specially developed around the Murumuru in 2016.
Today there are more than 1,100 small farms harvesting the Murumuru for Natura and who have seen their living conditions improved thanks to this tree.
IN THE HEART OF THE AMAZON WITH EKOS MURUMURU
INTENSE BENEFITS FOR HAIR
Rich in essential fatty acids, the Murumuru butter is also very rich in lauric acid, which gives it a dry touch and allows it to be perfectly combined with the proteins of your hair without weighing them down. It is the perfect ally of dry and damaged hair.
Thanks to the different rituals offered by Natura, the Murumuru hair care line can be adapted to all hair types: dry, damaged or very fragile, as well as curly or frizzy hair.
The simplest ritual (shampoo and conditioner) will be perfect for people looking to bring daily nutrition to their dry hair. For even drier and damaged hair, the ritual can be completed with the pre-shampoo and the care mask, which can still be enriched thanks to the repairing butter. Finally, the styling balm will be perfect to extend the repairing effect of the Murumuru throughout the day but also to give more hold and bring softness to your hair.
DISCOVER ALL OUR PRODUCTS ENRICHED IN MURUMURU BUTTER
Shampoo
With Murumuru butter, known for its moisturizing and repairing benefits, this repairing shampoo brings hydration to dry and damage hairs. Learn more
Conditioner
With Murumuru butter, known for its moisturizing and repairing benefits, this repairing conditioner brings hydration to dry and damage hairs. Learn more
Intense care mask
Enriched with Murumuru butter, known for its restorative and nourishing benefits, Ekos Murumuru hair products repair dry or damaged hair from the first use while providing softness and shine.Learn more
Combing balm
Enriched with Murumuru butter, known for its reparative and nutritive benefits, The combing balm, in taming frizz, facilitates the everyday combing and styling while repairing split ends.Learn more
Pre-shampoo care
Enriched in Murumuru butter, this pre-shampoo mask provides hydration and reparation to dry and damaged hair. This mask is pre-shampoo treatment, apply on wet or dry hair for better results.Learn more
Natura Ekos
Discover all the benefits from the Natura Ekos lineDiscover