Because men are also entitled to all the benefits of Brazil, discover the Brazilian ingredient Copaíba in a range of treatments specially developed for them.
Find 3 products enriched with Copaíba oil for body, hair and beard, with the woody and wild scents of Amazonia.
Shaving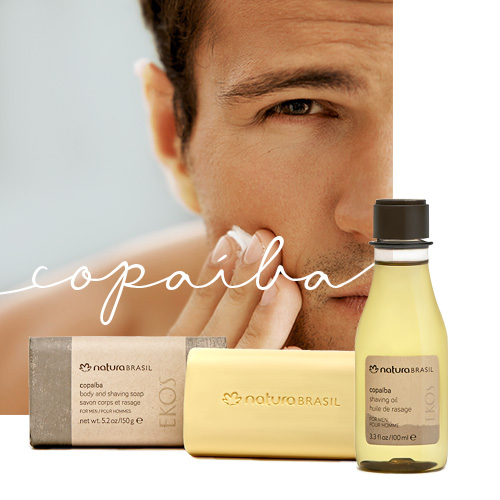 Because men's skin has very specific needs, due to the daily aggression of shaving, Natura Brasil offers tailored care, for a routine that will deliver a close, comfortable shave.
Did you know?
Early man used sharp shells to shave! Over the centuries, wearing beards and moustaches has been an essential part of male fashion and style. Today, although beards are back in fashion, the most important thing is to find the style that suits you and that you feel comfortable with day to day.
Shaving is one of the first things men do to start the day. A man spends an average of 3 to 6 months, or an average of 3,000 hours of his life shaving! To make this moment as pleasant as possible Natura Brasil has specific products designed for a close, comfortable shave, enriched with Copaíba oil from Brazil with soothing, anti-inflammatory properties.
Our Natura Brasil advice
Before
To prepare your skin for shaving, it is important to moisten your beard. Water will soften your beard and make shaving easier.
Warm water will soften your beard and open the pores of your skin. So the best time to shave is after showering!
During
It's important to keep your beard moisturised when you're shaving to help the razor glide through easily and avoid the unpleasant feeling of the razor catching on your beard.
After
Rinse your skin thoroughly to remove any excess product. Cold water will help tighten pores and tone your skin.
With Ekos Copaíba Body and Shave Soap, you'll enjoy a creamy lather with woody notes, perfect for a smooth shave and clean, fresh skin. With Ekos Copaíba Shaving Oil, particularly suited for bearded men who want to trim their beard precisely, shaving will be smooth and the Copaíba Oil in it formula will reduce tugging and cuts.
Hair
Copaíba 2 in 1 Shampoo

For a quick and effective hair routein, Natura Brasil 2 in 1 Copaíba shampoo gently cleanses your skin and hair. Enriched with soothing Brazilian Copaíba oil and coconut-based cleansing agents, this 2-in-1 gel gently cleanses skin and hair. You will feel fresh, soothed, and your skin and hair will be infused with an invigorating woody scent.Find out more
Murumuru styling balm

Finish with Murumuru styling balm when you get out of the shower. This balm can be used on dry or damp hair and aids daily styling, gently taming unruly hair while providing the hair with nourishment. The hair is less dry, protected and your style looks ultra natural, because this product is as much a care product as it is a styling product.Find out more
Fragrances
Natura perfumes contain an original combination of essential oils that gives the fragrances a unique character. They are formulated with organic alcohol, obtained from sugar cane, produced using environmentally friendly agricultural practices. Sugar cane is grown without the use of pesticides or chemical fertilisers in order to minimise the environmental impact of the harvest.
Which Natura fragrance is right for you?
When we buy a fragrance, it is important to choose one that corresponds to our personality, to our identity. A fragrance can say a lot about you and it's not an easy choice to make...


Natura Brasil offers 2 men's fragrances with unique notes:


Kaiak Classique
For some men, life is a quest for new emotions. Movement is their motto.
KAIAK evokes movement, inviting the energetic freshness of citrus fruits and herbs, supported by the comfort and elegance of of woody notes. Natura perfumes contain an original combination of essential oils that gives the fragrances a unique character.Find out more
Kaiak Intenso
Kaiak Intenso Eau de Toilette invites movement. Whatever kind. No matter how intense. Pushing beyond boundaries, to the limits of its potential. Kaiak Intenso, an explosion of freshness, an astonishing olfactory identity. A fresh fragrance with a challenging citrus opening, tempered with soft woody notes for balance and modern floral touches full of subtlety and mystery. Natura perfumes contain an original combination of essential oils that gives the fragrances a unique character.Find out more
For sport
And for men who are active every day and play sport regularly or occasionally, these 2 products are the perfect way to end a sports session with a fresh and intense moment of relaxation.
Maracujá gentle shower gel

This shower gel has a fresh, fruity tang and is the perfect way to wind down after a good workout. Its exotic Brazilian passion fruit scent will transport you in an instant to faraway lands, for a fabulous sensory escape. Find out more
Andiroba massage oil

Perfect to soothe your muscles after a sports session: Andiroba massage oil features the warm and woody notes so typical of the Amazon rainforest. For massage or simply to moisturise your skin quickly, this oil rapidly soaks into the skin and will be a valuable partner in your recovery. In fact, pure Andiroba oil from Amazonia has important repairing and healing properties, it is an indispensable element of the Amazonian Indians' medicinal remedies.Find out more